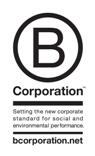 UPDATE: I interviewed Jay Coen Gilbert about B Corporation. Listen to the interview.
Evidencing the growing field of social impact businesses, a scoring system now exists to denote and certify companies that use the muscle of business for public benefit. Introducing B Corporation, a modern day Good Housekeeping Seal of Approval for the socially minded citizen.
There are 81 B Corporations (B for "beneficial") certified through the B Ratings System. This collective represents $650 million, is dispersed across 17 states and functions across 20 industries, including domestic consumer products and global financial groups.
CSR Wire points out that B Corporations can harness the clout of their combined voice to set themselves apart in a marketplace crowded with charitable promises. In the current swell of 'green washing,' certification as a B Corporation makes it easier to sort out good companies from good marketing.
To paraphrase Jay Coen Gilbet (co-founder of B Lab, a nonprofit that works to support and promote B Corporations), business is not just a tool to maximize private wealth, but a tool to maximize public health.
I'm fending off my knee-jerk aversion to another potentially watered-down certification system in celebration of what this need to classify represents: more companies embracing the triple bottom-line and more consumers aware of the choices they have.
Read a quick interview with Coen Gilbert about what it takes to become a B Corporation.