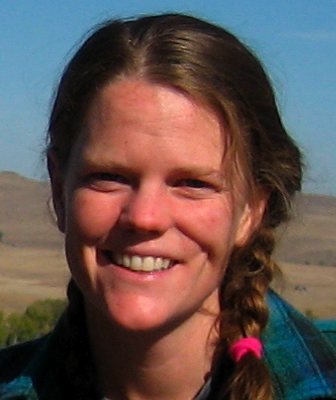 Sometimes, as social entrepreneurs, we're reluctant to show our passion for the social side or our business. We get caught up in trying to appear soundly strategic or business-minded or we over think our messaging, "Will this look like cause-washing? Can customers get behind this? How will we measure and track our results?" There's merit to the above questions, but there's more merit in leading with passion (even more so when our business is driven by a social mission). I invited Caroline Duell to Cause Capitalism to talk about how she is growing Elemental Herbs from her dual passions for herbal healing and the outdoors and how she deals with the dilemmas accompany a conscience-driven business.
Listen to our conversation (about 45 minutes) by clicking on the player below. Prefer MP3? Just right-click and save. I've highlighted some points below, but Caroline conveys her enthusiasm, passion and fun with her company better than I do in the notes below.

Caroline started with a healing plan, not a business plan. Her business making organic and locally-sourced hand balm, lip balm and sunscreen started with a balm she concocted from medicinal herbs to heal her hands when she was working as a rock-climbing guide.
Elemental Herbs' social mission is born out through the bio-diesel trucks employees drive, the organic herbs used in all products, the  company's marketing partnerships, the team of athletic outdoor activists the company sponsors and the recycled packaging and printing options it chooses. Elemental Herbs donates 1% of gross sales to environmental organizations as part of the 1% for the Planet coalition and recently earned B Corporation certification.
Some decisions to maintain a responsible and sustainable business cost Elemental Herbs more, while some save the company money. Buying bio-diesel trucks was more expensive than gas-run vehicles, but the additional costs have been recouped many times over by savings on gas. Choosing sustainable printing and inks, however, is more expensive than standard printing and materials, but fits with Caroline's personal values.Another area where Caroline's saved financially and found strong business partnerships is through the sustainable business networks she belongs to.  A fellow B Corporation extended an incredible discount for a service because the two companies' social goals were aligned. Elemental Herbs marketing partnership with Patagonia Footwear came from a shared membership in another network.
Caroline says the biggest challenge to running a sustainable business is the extra organization it takes.  She can't run to Kinko's for printing additional labels at the last minute because she's committed to printing on 100% post-consumer waste paper. "It's the planning that's the extra little piece in running a responsible business," she says.
Caroline decided to work toward B Corporation certification because "Becoming a B Corp is a clear way of expressing my core values in business. It's a simple way to communicate what I care about."
Elemental Herbs conducts at-will supply chain audits for each product. They referenced B Corporation, Cradle to Cradle and CarbonFootprint.com for the audit questions, which look at employee incentives for alternate vehicles and power and energy sources, among other things. Opening this dialogue with suppliers often sparks new growth in the company's suppliers' sustainability efforts.
I asked Caroline if it was tiresome to not only adhere to your own moral compass when running a business, but to feel responsible for other businesses' actions in the sense that if they aren't ethical, yet offer great terms, she'll stop working with them.  Her answer was that sometimes it can be tough, but she adds that "Whenever I dig deeper, I find a new treasure."
Half of Elemental Herbs' genesis lies in outdoor sports. Caroline and her partners decided to engage this part of their lives and interests by sponsoring Activist Athletes, a team of individuals who excel at a sport and are dedicated to conservation. It's a "really fun way for us to combine our interests and values."
Caroline offers this advice to other entrepreneurs: "Listen to your gut. We can spend a lot of time running the numbers, but we know what the right decision is."  Like one of our shared role models, Patagonia's Yvon Chouinard, Caroline believes that socially responsible decisions and profit are mutually occurring.