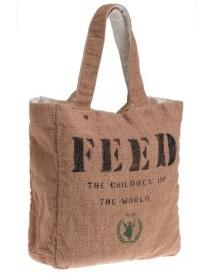 It costs only 10 U.S. cents to buy a school lunch for a child in the developing world. The purchase of one FEED Bag ($59.95) will cover a child's school meals for one year.
Proceeds from the FEED Bag directly support the UN's Food for Education activities, which use food aid to promote basic education in food-shortage areas. By providing meals through local schools, the program urges school attendance and learning in addition to its foremost priority of hunger elimination.
Hunger-fighter Lauren Bush designed the reversible FEED Bag, which is made out of natural burlap and cotton. The design mimics UN-distributed rice and grain sacks.
It's estimated that 400 million children go hungry on a regular basis. Inspired to exercise your consumer clout? Click here.