If you want the real story from a successful for-profit social entrepreneur, click the player to listen to Aseem Das talk about founding and transforming World Centric. Prefer MP3? Right-click and download.
Audio clip: Adobe Flash Player (version 9 or above) is required to play this audio clip. Download the latest version here. You also need to have JavaScript enabled in your browser.

World Centric evolved from a nonprofit to a nonprofit with a revenue-earning component to a for-profit social enterprise. Today, World Centric makes fully compostable household products including utensils, plates and cups. You can find the brand in Whole Foods and Cost Plus World Markets and when you take out from your sustainable deli. It's a profitable company rooted in a strong social mission. It's a terrific story to profile this week on Cause Capitalism as I've been focusing on social business ventures.
Aseem Das founded World Centric as a nonprofit organization with "a mission to reduce economic injustice and environmental degradation through education and community networks."  He knew he didn't want to take the rote nonprofit funding approach–donor solictitations and grant proposals–so he looked around for a revenue stream that was aligned with World Centric's mission.  He dismissed mattress recycling and wind energy in favor of selling fair trade and compostable products online.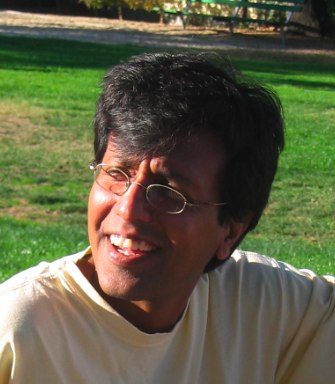 In the process of applying for tax-exempt nonprofit status (501(c)3) sales of fair trade compostable products picked up; the organization was earning too much revenue to easily earn 501(c)3 status.  So in 2009, World Centric fully converted to a for-profit enterprise selling compostable products. "It clicked that we could still do what we wanted to do as a for-profit," says Aseem.
The company is still focused on its social and environmental impact. It works toward being a model for sustainable enterprise and to influence consumers' consumption and waste behavior.  Aseem feels World Centric is able to reach a larger market segment than it would have as a nonprofit.  But the current challenge is using this opportunity to educate consumers about the environmental and social issues core to the company's mission.
Aseem decided against taking funding and has been able to grow the company through sales. "We're 100% in control of what we do with the business."  The tradeoff for independence is lack of resources, which adds to the challenge of balancing a social mission with profitability.  Aseem now spends more time growing "the business side of things" than running the educational programs on which World Centric (.org) was founded.
But it seems Aseem's constant juggling of mission and financial sustainability is working. World Centric's social mission helped the enterprise win larger accounts and gave it more room to build up operations and test the market as a nonprofit. The company has a carbon-neutral supply chain and operations, gives 25% of pre-tax profits to grassroots groups annually, heavily discounts products for schools and nonprofits, powers its offices with wind and solar energy, and offers employees a $250 monthly transportation stipend. Now, its new retail line opens up the opportunity to educate and influence consumer behavior through packaging and marketing.
If you like this interview you should thank Aseem on Twitter like this. You can follow World Centric at @WorldCentric.
About World Centric Products
World Centric products are made with annually renewable resources like corn, sugarcane and wheat straw fiber. Sugar cane and wheat straw fiber are also discarded by-products of the agriculture industry, and it uses this discarded fiber to make sustainable alternatives to plastics and styrofoam.