When Muhammad Yunus set about creating Grameen Bank in 1983 he asked ShoreBank for launch advice and help raising capital. By then ShoreBank had already been busy for the last 10 years revitalizing urban communities on Chicago's South Side by funding development projects and providing small business and home loans to under-served, low to moderate income populations.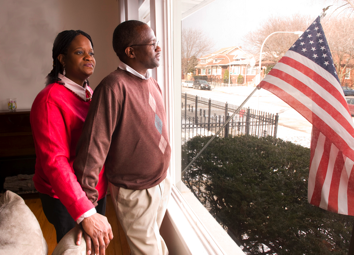 Founded in 1973, ShoreBank was the country's first community development bank and later, the first environmental bank, encouraging sustainable development and energy efficiency. The ShoreBank Corporation, the bank's holding company has two banks: one serving Chicago, Cleveland and Detroit, and ShoreBank Pacific in Ilwaco, WA, and Portland, Oregon; along with affiliated nonprofits in Chicago, Cleveland, Detroit, Ilwaco, and Portland; business development services in Michigan's Upper Peninsula; and consulting services around the world. These companies have invested $3.8 billion in national and international development projects.
I spoke with Brian Berg, ShoreBank's vice president of marketing about the institution's new initiatives and how community development banks differ from traditional ones.
What does it mean to be a community development bank?
Foundations, individuals, consumers and other financial institutions that support community development investing deposit money in a FDIC-insured ShoreBank account that provides a competitive rate of return as well as a social return. The bank uses the deposits to help fund loans to borrowers specifically for community development projects, like renovating and purchasing affordable housing, its Rescue Loan and Capacity Plus programs that save homes from foreclosure and assist struggling nonprofits, growing small businesses and green collar jobs.
ShoreBank begin supporting sustainable, environmentally friendly development projects in the mid-1990s, in addition to its community development work. How does the bank define its success now?
We're a triple bottom line bank, so we are working just as hard to make sure our services have a positive impact upon the community and the environment as they are on our financial performance.
How do ShoreBank's profits compare to a traditional bank of its size?
ShoreBank has been profitable through out most if its history. Historically, our pay-back rate on loans has been as good as or better than comparable-sized banks.
Putting aside for a moment ShoreBank's positive human and environmental impact, are there other benefits that stem from being a socially conscious bank?
Absolutely. Our social mission is a strategic advantage that distinguishes us from other financial institutions which helps with our marketing and employee recruitment and retention .
What has ShoreBank International been involved in?
Last year ShoreBank International raised $62.2 million from 12 organizations to provide debt capital for the BRAC African Loan Fund. BRAC is a leading international development organization founded in Bangladesh by Fazle Hasan Abed. The money is being used to provide microfinance loans to more than 700,00 poor borrowers in Tanzania, Uganda and Southern Sudan.
ShoreBank International just received a $5.5 million grant from the Gates Foundation to create and promote savings accounts for the very poor in Southeast Asia. ShoreBank International was one of a handful of financial institutions chosen to explore new ways, like mobile technology, to provide 11 million people in African, Asia and Latin America access to savings accounts over the next five years. Working with four partner institutions in Bangladesh, India and Pakistan, we aim to reach 1 million micro-savers in the next several years. [Read more here.]
What else should we know about ShoreBank?
I'll share a couple of points that might relate to your audience. The work ShoreBank executives did with then Arkansas Governor Bill Clinton to create a community development bank serving rural Arkansans in the 1980s, and the ShoreBank model became the inspiration for the establishment of the Community Development Financial Institutions which have invested billions in distressed U.S. communities.
We offer free energy audits to home mortgage clients to encourage them to make energy efficient improvements. A $2,000-$5,000 improvement can save a household 50% in energy costs every month in addition to alleviating environmental stress.
ShoreBank is one of the founding members of B Corporation. [B Corporations are a new type of corporation that uses the power of business to solve social and environmental problems.]