What do the captain of the gold medal US Olympic women's gymnastics team Aly Raisman and polar explorer Robert Swan have in common?
On an afternoon in Palo Alto this week, their shared mission was to inspire. Not nascent gymnasts nor endorphin junkies, but venture capitalists, social entrepreneurs, corporate executives and foundation heads gathered for the Social Innovation Summit. Held twice annually, SIS aims to inspire a diverse network of leaders to collaborate and share strategies and business innovations that yield social transformation.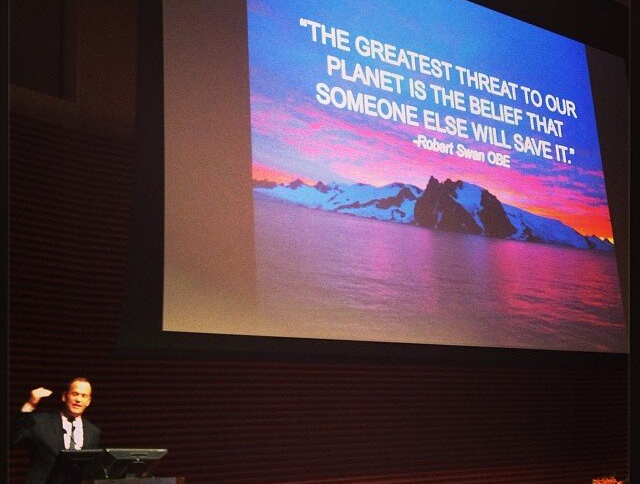 Having attended several times, I can liken it to a big-tent event showcasing a variety of acts meant to inspire and set imaginations–and corporate agendas–in motion. Rather than convening action around a singular cause, the Summit offers a tableau of critical issues–veterans affairs, women & girls, STEM education, the health care epidemic, and melting ice caps–ripe for support and collaboration. Undergirding this are partnership case studies, models of social enterprise, and best practices to scale.
Here's my highlight reel.
The Buddhism vs. Catholicism continuum of scaling — whether to tailor your business to local needs or replicate the same practices as your organization or company expands. In his forthcoming book, Scaling Up Excellence, Stanford professor Bob Sutton talks about Home Depot vs. Ikea's entry into China. When Home Depot entered China, a service-focused culture, it imported the same model that's made it an international success, and failed grandly. In contrast, Ikea, a global icon of DIY-ness, adapted its model to include home delivery and assembly.


.

Sutton also counseled organizations to create cultures where people feel as "I own the place and the place owns me."


.

Perhaps counterintuitively, Sutton recommends shedding policies and practice as your organization grows. "Scaling is a problem of more AND less – as you grow you also need to shed [practices suited for a smaller team]." But this doesn't mean you should go free-form, "There are no organizations without hierarchies. People need and want them."


.

Shannon Schuyler, Corporate Social Responsibility Leader at PwC challenged companies to innovate for impact rather than for profit: "Companies that truly commit to innovation are 60% more likely to earn a profit versus companies that use profit as a motivator for innovation." Schuyler also urged collaboration across organizations, a role she calls the extrapreneur. "The most innovative companies collaborate with third parties three times more often than low innovating companies"


.

will.i.am's organization, the i.am.angel Foundation, focuses on bundling existing STEM education programs to rebuild inner-city schools and neighborhoods. "Athletics shouldn't be the only thing taking kids out of the ghetto. It needs to be robotics and math and engineering." The Foundation heeds Schuyler's advice in that its model is based on convening and partnering with existing programs. "I don't want to create new programs, I want to create new combinations of programs. It's this cluster effect that really works," shared will.i.am.


.

Highlighting Code For America's model of using technology to rebuild citizen trust in government, Tim O'Reilly urged governments to prioritize user engagement and clean interfaces. "Healthcare.gov showed us the frustrations and incompetencies that people trying to access social services like welfare experience daily." He urged government to adopt Silicon Valley tenets such as failure, "How do we get government to think more like Silicon Valley, that not every good idea works and that's okay?"


.

"The main challenge to disrupting poverty is how we can provide more meaningful employment," said Samsource founder Leila Janah. Samasource creates microwork by outsourcing rote functions (like online categorization or simple data entry) from companies like Google or Eventbrite to the poor. Leila addressed the controversial topic of outsourcing by speaking to market forces and the flow of capital. Samasource allows companies to channel big dollars toward international development (via employment) and receive a market-rate service in return. The organization evidences how the "social business model creates a new class of companies that are non-dividend and non-loss."


.

Sold into prostitution at age 12 by her grandfather, activist and mother-to-all Somaly Mam has rehabilitated more than 7,000 child prostitutes through love, trust, education, and the gift of responsibility. Second to drug trafficking, sex trafficking is the most pervasive global crime, yet the issue is largely untouched by the corporate sector. While many are moved by Mam's story, sex trafficking remains a third rail issue around which few companies are willing to engage. Critical exceptions are Juniper Networks' Not For Sale Campaign to end human slavery and Google's $3-million investment to develop global hotlines to report human trafficking.


.

I caught up with Barbara Bush to chat about equipping young leaders with the tools to tackle global health through non-traditional channels like architecture computer science. Her organization, Global Health Corps, has grown 450% in the past five years, in part due to the atypical partnerships she creates across sectors (a topic we spoke about in detail last year).
The enormity of such challenges as ending human trafficking, employing the world's 1.29 billion extreme poor, and rebuilding trust in government call for bold commitments, unwavering dedication, and a comfort with failure. And so 19-year old Olympian Aly Raisman took the stage to talk about the merits of hard work (the rewarding feeling of falling into bed with noodles for arms and the knowledge that she didn't hold anything back in training that day) and learning to be comfortable with fear. "People think Olympians aren't scared. We're terrified everyday."
Robert Swan, the first person to walk to both poles, talked about commitment and carry through. After a 900-mile march across the icy terrain, Swan and his team reached the South Pole and received word that their ship home had sunk minutes before. Before starting off on his trek, Swan promised his mentor Jacques Cousteau that he would leave no trace. This promise required a year on base in Antarctica and additional funds to retrieve and remove the sunken vessel.
Closing the conference Swan cautioned that "The greatest threat to our planet is the belief that someone else will save it."