You want more green initiatives in your company and so do your employees and consumers.  You'd love to give employee rebates for hybrid car purchases or offer transportation stipends, but the funding for these programs just isn't there right now.  It's taking action (rather than any specific action) that counts.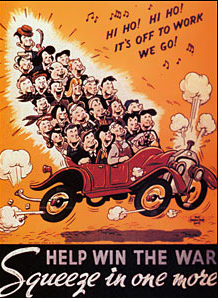 A year ago NetApp was working to build employee awareness around green transportation choices, but lacked the budget for hybrid credits or comped metro passes.  A lack of C-level funding pushed NetApp's green team to get creative and draw on an intern's skills in programming and gaming.  Said intern wrote an application to facilitate employee carpooling by matching people based on where they live, time of day preferences and days of the week.
Doubtless, this solution is less glamorous than doling out car credits and premium parking spaces for hybrids, but it's still effective at tackling the company's and employee's goal of reducing their transportation footprint.
If you can't (or don't care to) replicate Clif Bar's hybrid rebate programs, for example, the alternative isn't nothing. It's coming up with something new. In the case of NetApp, it was first bringing employees into the dilemma, and second  leveraging an intern's skills and passion.  Cost?  Free.