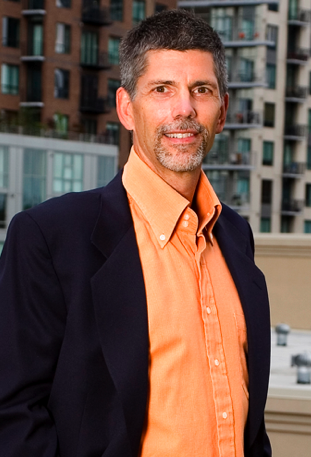 Portfolio 21 Investments, a mutual fund that invests in ecologically sustainable companies, was founded by a man who received two shares of Mattel Toys as a boy and explored the world at large as a young man. Pairing his interests in finance and social good, Carsten Henningsen founded Portfolio 21 in 1982.
The firm is stringent about which companies it invests in, refusing mass-market sustainability players like Groupe Danone (which owns Stonyfield Farm) and GE (widely applauded for its Ecomagination program). Portfolio 21 investments have outperformed the S&P 500 and MSCI World Equity Index since the firm's inception, barring the 4th Quarter in 2009.  The company works with individuals, employers, brokerage firms and investment managers.
From his sustainable office in Portland, Oregon, Carsten answered my questions about socially responsible investments, how a lack of market research helped launch the firm and how he withstood the skepticism from his financial peers.
Click the player to listen.

Key points from our conversation:
The business of responsible mutual funds was nearly anathema when Carsten founded Portfolio 21. If Carsten had gauged public interest through focus groups, he probably wouldn't have launched the firm.
Today, socially responsible investing is the fastest growing sector in the financial services industry, even in this financially conservative time.
Carsten hypothesized that Portfolio 21's investments outperform traditional ventures because its investment companies are screened through an environmental lens in addition to a financial one.
Environmental considerations are closely tied to a company's bottom line. If a company is wasteful and a polluter they will loose market share, spend more on resources and waste and potentially incur fines or sanctions.
Criteria for evaluating companies are borrowed from Swedish non-profit The Natural Step. Considerations are not just ecological; Groupe Danone was refused because some products contained genetically-modified ingredients.
It takes 40-60 hours for a company to be fully evaluated.
Transparency is the firm's bread and butter. The website lists all companies who were refused or divested and the specific reasons why.  E.g. Sustainability darling Interface was divested not because of environmental malfeasance but because i outgrew WPortfolio 21's financial needs.
Unlimited growth is unsustainable.  Investing today goes beyond the expertise needed to manage only financial risks.
To be able to fully recover and deal with national deficit, we need to apply a broader level of thinking that includes challenge the popular mandate for unlimited growth.
It's critical that we learn how to weave together economical and ecological limits to confront today's challenges.
What do you think? Do you have socially responsible investments as an individual or employer?