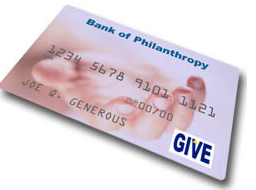 It's the simplest programs that drive action and results. Three days after Haiti was struck by the January 12 earthquake, Discover Card enacted a simple relief program that raised $3.1 million. Card members could contribute their cash back bonus points to the American Red Cross and Discover would convert this to dollars and match the donation.
In addition–and this is critical to demonstrate support–Discover made an initial gift of $100,000 and matched $1 million of card member donations. The company is also waiving merchant transaction fees for 17 organizations providing support to Haiti (allowing 100% of your donation to reach Save the Children or MercyCoprs). The simplicity, directness and immediacy of the program leveraged a greater pool of donations and gave cardholders an appreciation for Discover as an enabler of giving–rather than of consumption.
$100,000 initial gift by Discover to demonstrate immediate support
$2,000,000 donated in cash back bonus points by card holders
+$1,00,000 matched donations by Discover
_________________________________________________
$3,100,000 to the American Red Cross for relief and rebuilding in Haiti as of February 10
I have almost 2,000 points from a past United Airlines Visa credit card which are set to expire in five days. Far from enough for an airline ticket, it could get me a lavish dinner at Outback Steakhouse. But as I'm a vegetarian now living in Buenos Aires who writes about social missions and corporate sustainability, United and Visa have missed an easy opportunity to connect with me and to help others.
Has your credit card company launched programs to assist Haiti? Do you believe it's their place to even do so? I'd love to hear your thoughts.