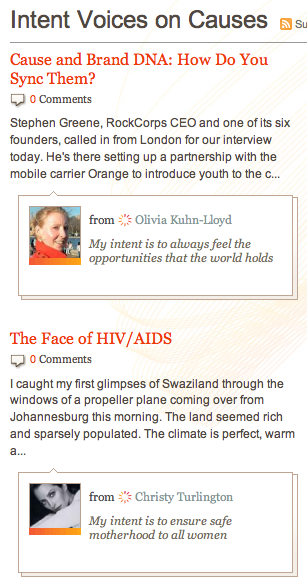 UPDATE June 2009: My entrepreneurship-in-residence morphed into a steady position with Intent. During the last year I have helped build Intent's blogging community of more than 400 experts; developed content distribution networks and revenue streams through advertising and sponsorship; executed an integrated media campaign for SunChips that was packaged and distributed throughout Intent's network; and seeded Intent's first social responsibility campaign (one minute volunteered for every intent supported). It's been a dynamite year!  I'm transitioning from Intent to spend more time on Cause Capitalism and to launch social responsibility programs for small and mid-sized companies, starting with KooDooZ.

I now blog for Intent.com, a new site to launch this summer. Founded by Mallika Chopra, Intent is an overarching wellness site covering spirit, mind, body, community and world. My focus: Cause!
I'll broadcast their launch later this summer. Until then, you can read their blog, which draws from a bevy of voices from Deepak Chopra to Olivia Newton-John.
I'm also doing an entrepreneur-in-residence with Intent–they give me desk space and I'm available to help develop projects and grow their community.
Have ideas or suggestions for Intent? Want to be a featured blogger? Let me know.