I might as well rename this site "Socially Conscious Shoes," given that this is my second post on footwear in as many days. But this product is good, so here I go.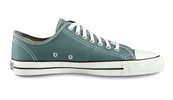 On the hunt for shoes that are fair trade? Eco-friendly? 100% vegan? Produced sweat-shop free? Autonomie Project specializes in Chucks-like sneakers that  are all of the above.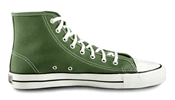 Independent, worker-owned co-ops in rural and developing regions of the world manufacture the sneakers in facilities that are Fair Trade certified. The kicks are made from pure canvas and all natural and sustainable latex, which means the rubber was culled from a maintained (replanted) forest, rather than being created from a chemical concoction.
Autonomie Project helps its workers develop and market their goods, providing them the opportunity for an income, and infusing the immediate region with a self-supporting (autonomous??) industry.
Thanks to White Apricot for the tip on Autonomie Project.