.

"What would you say to companies that see improving even one piece of their supply chains as too expensive?" I asked.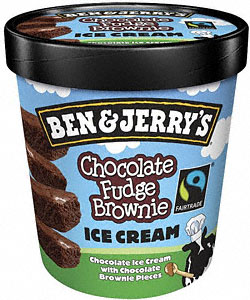 Joe Sibilia had just shared one method to help companies become more sustainable: take one ingredient in the supply chain and use it to create a social benefit. This is what he had done with Ben & Jerry's through the aptly named 1 Ingredient program.
Partnering with Greyston Bakery, Ben & Jerry's uses one ingredient in its products, brownies, to create jobs for the chronically unemployed–former convicts and addicts. Greyston Bakery provides its Brownie Artisans with living wages and skills training and invests all profits into the Greyston Foundation to support job development, healthcare, childcare and housing.
By re-imagining the production and sourcing of just one item, Ben & Jerry's has supported the rehabilitation and growth of thousands of society's most marginalized people over the past 23 years.
But not all companies are Ben & Jerry's. Anticipating that most companies think differently (or not at all) about their impact on society, I asked Joe how he would coach companies to see the financial value in creating something that benefited society. He gave an exasperated grunt.
"I'd Say to the company, 'If  you're valuing your supply chain on the narrow scope of cost-effectiveness and you really wanted a cost-effective approach, you'd use slaves, child labor and put up with unsanitary working conditions.'"
Joe's right, of course. We all care about more than just cost and profit. But we use money as a false restriction, assuming there's a trade-off between money and doing the right thing. Ben & Jerry's didn't take 5% of Chocolate Fudge Brownie sales and donate it to workforce development. Instead the company used market systems and creativity to deepen its impact at no additional cost.
A long-time social entrepreneur, Joe Sibilia's ventures include CSRWire, the social investment bank Meadowbrook Lane Capital and the Gasoline Alley Foundation, which incubates socially responsible businesses in inner city neighborhoods.
I spoke to Joe in preparation for a session I'm leading on integrating social responsibility into your brand at Sustainable Brands.  If you're interested in attending the conference (June 7-10 in Monterey, CA) email me for a 20% discount. This will be my second year attending; it's an absolute playground for people interested in using business as a force for change.