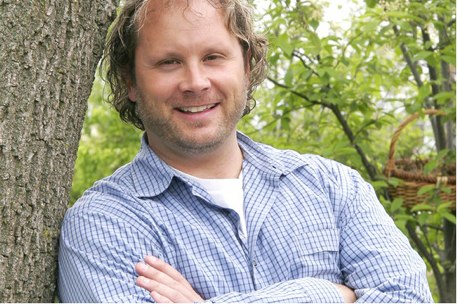 This was one of the most educational interviews I've done. Mike is able to admit when he's wrong, to explain the internal motivations and strategy behind his company's social responsibility programs and to go beyond corporate sound bites.
Click the player to listen to our conversation. Prefer MP3? Right-click and download.
Audio clip: Adobe Flash Player (version 9 or above) is required to play this audio clip. Download the latest version here. You also need to have JavaScript enabled in your browser.
Michael Dupee began working with Green Mountain Coffee Roasters after graduating college in the early 90s. At that time, the company was mid-point between its modest beginning as a neighborhood cafe in Waitsfield, Vermont, in 1981, and it's current state as a publicly-trade company with six subsidiary brands and more than $715 million in revenue in 2009.  In 1996, Mike left Vermont and Green Mountain Coffee for his MBA and spent a couple of years with Goldman Sachs.  He rejoining the company as its Vice President of Corporate Social Responsibility in 2004.
Born into Vermont's climate of sustainability, Green Mountain Coffee has always been kind to the environment. The company began composting in 1983, switched to biodegradable coffee bags for bulk purchases and started contributing 5% of pre-tax profits to social and environmental nonprofits in the mid-90s.  But the enterprise's (and its employees') sustainable habits didn't count for a cohesive strategy (and at times worked against one).
So Mike's first priority was to create an overarching strategy that would unite and further sustainability efforts.  "The biggest problem was getting organized," says Mike. "We needed to identify a direction that we could all work towards."  After a lot of listening and acting as a "thinking partner," Mike and his team created a company-wide framework that defined success in six areas:  supply-chain communities, local communities, environment, sustainable products, working together for change and the workplace.
If you listen to our conversation you'll hear Mike talk about some of the specific challenges inherent in formalizing sustainability, his admitted initial error when working with supply chain communities and the best kept secret of many CSR departments.
More on Green Mountain Coffee's CSR
The company specializes in fair trade certified and certified organic coffee.
Green Mountain Coffee offsets 100% of its direct greenhouse gas emissions.
In 2007, the company opened a 10,000 gallon biodiesel fueling station at its Waterbury, VT, distribution center.
Packaging for Newman's Own Organic coffees is made from partially renewable materials.
In 2006, the enterprise launched an all-natural paper hot beverage cup developed in partnership with NatureWorks and International Paper. The cup is lined with a bio-plastic made from sugar.
Employees can choose to receive paid time-off to volunteer in their communities (up to 52 hours per year) or to earn a grant for a nonprofit organization by volunteering on their own time.
Green Mountain Coffee offers all employees a stock purchase program and profit sharing options for employees in the specialty coffee business unit.
The company was ranked #1 in "The Best Corporate Citizens" in 2006 and 2007.
Referenced in our conversation
Revelation to Action is an online, open-sourced competition, run through Ashoka's Changemakers platform, to find and fund ideas and organizations that strengthen communities in the Northeast.
Like this interview? You can thank Mike on Twitter like this.