In the last four days that I've been back in the states I've had to pay for bags three times (at CVS, Ikea and Trader Joe's). It's a surprising and welcome development, particularly as I'm not in California or Boulder, but in Washington, D.C.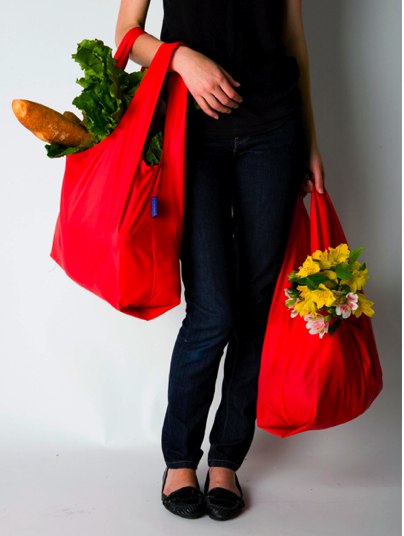 My reaction to the pay-for-bag-system has also evolved in step with consumer and business attitudes. I remember being charged for bags five years ago at Ikea (this time in California, after another move) and feeling indignant. How could the store charge me, a customer, for a bag to carry what I had just paid them for? Of course, later I settled into the routine of bringing reusable bags to the store with me when it wasn't needed. And it became a point of pride, a small, visible signal to myself that I was being responsible. The stores neither encouraged my actions nor rewarded them.
But now that's changing.  Trader Joe's charges 5 cents per bag and credits you 5 cents for every bag you bring. As my better-late-than-never-sustainability-practicing husband pointed out, "That's a 10-cent cost for every paper bag you use."  CVS sells Greenbagtags to attach to any reusable bag for 99 cents and rewards you with a $1 credit every fourth time you use your bag. Each tag sold also triggers a 5 cent donation to the World Wildlife Fund.
So why are companies getting in the game?  Is it saving on bags? Customer loyalty (e.g., CVS' Greenbagtag program)? Public image? Market relevance? Each factor in itself is reason enough because there's adequate social proof to enforce the practice of reusable bags, which means that customers are less likely to view this restriction as negative. But what about Ikea five years ago? Surely I wasn't the only customer irked I had to pay for bags.  What was the value of the risk for Ikea?
The value is in what the company stands for: less waste, sustainable sourcing and labor (as well as inexpensive well-designed products).  Last month, Ikea announced that by January it will no longer sell lights that use incandescent bulbs.  That's also a brazen step sure to bug some consumers.  Five years down the road, however, it will likely seem de riggueur as consumers reap the financial savings of energy-efficient lighting.
In a market that is so consumer driven, it's exciting to see companies influencing consumer behavior for the better.  And it's a good business strategy. When Nike makes a product that gets me running more and Ikea improves the way I light my home, I am grateful (and a loyal, evangelizing consumer).