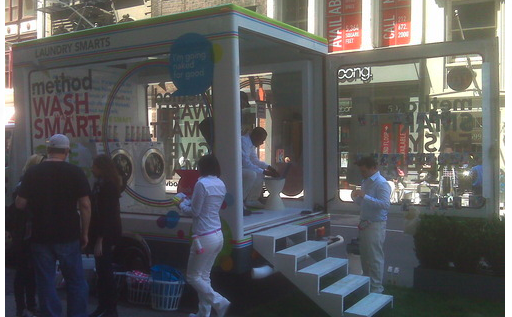 1. Collaboration
2. Innovation
3. Care
4. What would MacGyver do? (ingenuity & industry to impact the outcome)
5. Keep method weird
Cleaning-products brand method applied its five values to launch its new laundry detergent last month. Partnering with Goodwill Industries (collaboration), method toured the streets of New York City in a glass-walled truck that contained a mobile laundry room (innovative, weird).  During the three-day "Wash Smart, Give Smart" campaign, the mobile laundromat stopped at different locations to collect, wash and donate used clothes to Goodwill (caring).  The campaign encouraged passers-by to spontaneously donate an item of clothing that they were currently wearing (does MacGyver encourage stripping?). The first 200 to do so were rewarded with a 25-load bottle of method laundry detergent.
"Wash Smart, Give Smart" is part of method's larger Laundry Smarts campaign to encourage people to re-think and improve the way they do laundry.  The campaign captured attention, put a new product in people's hands, encouraged giving, benefitted charitable partner Goodwill and strengthened method's identity as a functional green brand with hip properties.
No word on how the mobile unit was powered or if carbon offsets were purchased for the transportation and laundering, but a clever campaign all the same.
Photo credit: Mia in Manhattan.