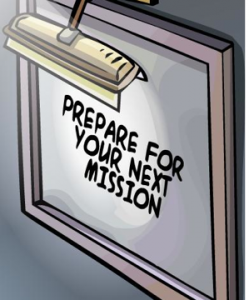 You can read articles and books on how to write your mission statement, but not here.  This is a collection of  ideas that worked for other social entrepreneurs and what they would do differently next time.  It's what they wished they'd had when defining their mission.
Most mission statements sound like a sixth-grader's attempt to write like a grown-up.  They're overstuff phrases low on meaning and high on syllables.  They'r obligations that were created in the conference room, but are forgotten about on a daily basis.  What they should be–what the best ones are–are a tool to guide your business, motivate your team and inspire your consumers.
"You make money by enforcing precise standards, putting your heart and soul into producing the best product and, above all else, holding fiercely to your mission."  — Gary Hirshberg of Stonyfield Farm
As a social entrepreneur, your mission is why you're in business. Articulating what you care about and how your company will help you fulfill it, helps you make decisions that advance your mission.
Forget about the words and remember why you have a statement in the first place.  Lead with an action you want to achieve rather than an idea or feeling. Better World Books' mission is an actionable goal (which is posted on its website along with the company's core values), Better World Books is a global bookstore that harnesses the power of capitalism to bring literacy and opportunity to people around the world.
Make it quantifiable if possible.  One Laptop Per Child exists To create educational opportunities for the world's poorest children by providing each child with a rugged, low-cost, low-power, connected laptop with content and software designed for collaborative, joyful, self-empowered learning.
Stand for something.  Not everyone will care about (or even agree with) your passion.  Not everyone will want to buy your product–and that's good. We fail when we try to please everyone and end up doing everything poorly.  A mission statement helps you distinguish between new initiatives and demands that fit with your purpose, and those that don't (no matter how loud or lucrative they are).
Read the mission statements of "the 10 companies you most admire," suggests Jeffrey Hollender, co-founder of Seventh Generation and author of "The Responsibility Revolution." It's helpful to see how established companies have articulated their operating principles and values.
Once you have your statement, put it out there when you present your company to investors, consumers, employees and suppliers. You might want to include it on your website, email signature or business cards.
In Their Words
A strong mission statement gets you through the storm.  If your mission is clear and inspiring and you use it as the cornerstone of your business–you won't have trouble convincing customers of the superiority of your product or service. — Gary Hirshberg, co-founder,

Stonyfield Farm
Stonyfield Farm's mission statement: We're committed to healthy food, healthy people, a healthy planet, and healthy business.
It was absolutely essential that we have a very clear mission statement about what it is that we're doing, and that it had our values embedded in it. We had a very specific mission statement within the first few weeks of our business planning. We looked at whether it's simple to convey to people. Is it simple to remember for our staff and all of our stakeholders? Is it a clear representation of our values? –Kim Coupounas, co-founder and Chief Sustainability Officer, GoLite
GoLite's statement: To transform the outdoor athlete's everyday trail experience with gear that's light on the planet.
Stay focused and true to your social mission. There will always be peripheral issues you will have to deal with when running an enterprise. Stay passionate about the issue you are trying to solve and the rest will inevitably fall into place. This is not to suggest you should neglect issues as they arise, but don't get caught up in the little deviations from your marketing plan…. Keep your social purpose in plain view at all times. –Faisal Sethi, co-founder, DoGood Headquarters.
DoGood Headquarter's statement: Transforming individuals from social and consumer pacifists to social and consumer activists.