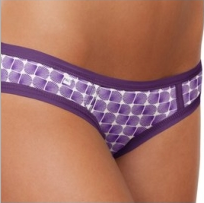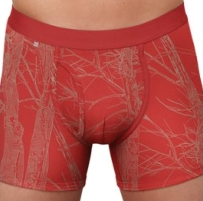 The day of commercially induced amorous passion is nearly upon us. In addition to living a day of randiness and long-gazes, I'd like to suggest that we live a day of compassion. I happen to love Valentine's Day, but I get an internal twitch from writing a post that encourages more consumption. He loves me, he loves me not. I buy, I buy not. But if I do buy, I buy something that has a social or environmental benefit. My list:
Skivvies

Cause Shoppe

has several lines of

panties for her

and

briefs for him

that are made from 95% organic cotton, responsibly manufactured in Turkey and that kick back 10% to non-profits involved in forest or marine protection.

Sweets
Baking for Good makes cookies, bars and sweet snacks from all-natural and organic ingredients and gives 15% of the purchase price to the non-profit of your choice. Prices are competitive and the goodies are hand-baked. Greyston Bakery has been selling their brownies to Ben and Jerry's for years and now you can buy brownies and a large collection of gluten-free products from them directly. Their motto:  "We don't hire people to bake brownies. We bake brownies to hire people."  Profits from their Do-Goodie products go to the Greyston Foundation to support jobs, child care, health care, and housing for the underprivileged.
Wine
ONEHope Wine donates 50% of profits to AIDS, Autism, Breast Cancer, Troops or the Planet based on the varietal purchased. $250,000 has been given to more than 150 charities.
Tea
Sensual and spicy Kashmiri Chai and Sechung Dark Oolong are sold by Indonique, which donates 10% of all sales to Mercy Corps to invest in tea growing communities in India. This company is growing its business by helping the peolple who grow its tea.
Cooking with CSA
Find a local Community Supported Agriculture program near you with Local Harvest and make dinner for your beloved or mince, puree and saute together. For a monthly fee you get deliveries of seasonal fruits and vegetables to your door every two weeks and recipes to help you figure out what to cook.
(Bubble) Bath Products
Pangea Organics makes natural, organic soap and beauty products in environmentally friendly facilities, packages them in boxes you can plant and gives 5% of profits to Women for Women International. Soap Hope retails Pangea Organics and other female favorites like Fraiche and Hugo Natural. Soap Hope invests 100% of profits in non-profit partners to support micro-finance loans to women.
Flowers
Not just organic, each bouquet from Organic Style is associated with a specific nonprofit. Buy a bouquet and a portion of the cost goes directly to its affiliated organization. Heifer, EarthShare, PETA, Global Giving or Amnesty International are just a few of the organizations you can choose from. PRODUCT(RED) just launched the online service FLOWE(RED). All profits from these ethically sourced flowers go to people living with HIV in Africa.
Chocolate
Sweet Riot is living the life of a startup with a social mission. Their ingredients are ethically sourced, natural and fairly traded. They support non-profits through in-kind donations and event appearances and they are transparent about where they are now (no cash donations) and where they want to be (deep partnerships with non-profits that will be more than just cash donations). Dagoba works with cocoa cooperatives in Costa Rica to sponsor re-forestation programs, partners with urban greening products in the United States, buys green power for its manufacturing plant and makes packaging from recycled packaging.
Travel (and volunteer)
If you're like my husband, you would vastly prefer an experience over any object. GorpTravel and the Sierra Club offer volunteer trips ranging from rugged to cushy in the States and abroad.
Have another thought to offer? I'd love to hear it. Email me or leave it in the comments.