I'm wrapping up Social Business Venture week with a look at funding options for the breed of businesses that generate profits but exist primarily to fulfill a social need.  The legal structure of your business should take into account how you plan to operate and earn revenue. Neither of these decisions can be taken lightly and I've not tried to cover them, but to present a snapshot of funding options.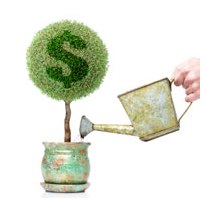 The two social businesses I've profiled this week, World Centric and Better World Books, have taken different approaches to funding, self funding and organic growth through sales and an SBA loan then venture funding, respectively.  Both Aseem Das and David Murphy talk about how they made these decisions in our interviews.
~
Foundations
If your for-profit venture is a Low-profit Limited Liability Company (L3C), you can apply to foundations for program-related investing funds (PRIs). As an L3C, you can ask for a loan at little or no interest and structure more convenient payback terms than a bank would allow.
Angels and Venture Capitalists
There's a growing crop of investors looking for social as well as financial returns. Many of these investors expect market-rate returns on their investment. The financial viability of your enterprise is just as important as it would be to the most socially misanthropic funder, but social venture capitalists might be willing to wait longer for a return on their investment.  An intended secondary benefit to working with an angel or VC is the guidance and support they give your business. Good Capital's Kevin Jones' close involvement helping shape Better World Books' model is terrific example.
Banks
Community development banks make loans to companies with community development or social missions through earmarked federally backed funds.  ShoreBank supports environmental and mission driven ventures with loans, lines of credit and other services.  Billing itself as planet-smart banking, The New Resource Bank has services geared to sustainable and environmental businesses.
The Small Business Administration (SBA) is a federal government agency that supports small businesses. It doesn't directly make loans but acts as a guarantor on the bank loan. David Murphy used an SBA loan to grow Better World Books' operations and prove its model before taking venture funding.
Self Funding, Friends and Family
The personal pressure of accepting funding from family and friends is high. An upside, however, is that you'll likely be extremely disciplined with how you spend it.
Additional resources:
15 Social Venture Capital Firms You Should Know About
10 More Social Venture Capital Firms You Told Me About
The Best Kept Secret to Social Venture Funding?
Image credit: blog.entrepreneur.com