On his last day of work with Scholastic Entertainment Deron Triff goes to lunch with some colleagues. In the restaurant is a man showing pictures on his Mac of his work with Mercy Ships to provide healthcare to the chronically poor. The man is Scott Harrison who goes on to start charity: water and serves as an impetus for Changents–an internet platform that connects incredibly cool people who are changing the world with the people who help them.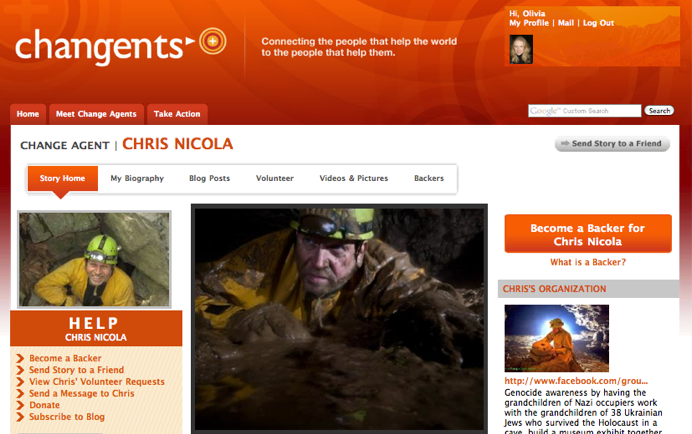 "Storytelling is the most exciting way to hook people," says Deron Triff who co-founded Changents with Alex Hofmann after meeting Scott that day in the restaurant and keeping up with his work on MySpace–the only serious social media site at the time. Modeling Scott's approach to engaging youth in online philanthropy, Deron and Alex created Changents to provide change agents with the digital storytelling tools and services to share their stories and mobilize people, called "backers," around them. The site launched in June 2008 and landed a banner partnership with the Timberland Company in its first year.
I invited Deron to Cause Capitalism to talk about his experience founding a for-profit social enterprise, how the business model has changed in the current crowding of social media platforms and how he won over Timberland CEO Jeff Swartz and causestrategist Carol Cone with cold emails.
Listen to our conversation (about 35 minutes) by clicking on the player below. Prefer MP3? Just right-click and save. As usual, I've highlighted some points below.

Deron and Alex met while working for PBS. They brainstormed about a Gen Y entertainment and "attitude-driven" media company that operated as a social enterprise. "MySpace was about it in terms of credible social networks in 2007," says Deron. "There wasn't a platform for people who were changing the world through social enterprise, music, activism, art or engineering."
Changents focuses on the power of charismatic individuals and their incredible personal journeys–rather than traditional institutions and non-profits–as the drivers of scalable change movements.
When Deron and Alex developed their business plan in 2007 they envisioned Changents as a video-based site. Just this week, they reworked their plan to support a new site that will use crowd-sourcing to match the specific skills of community members to change agents' needs. Although video is still a part of Changents, the site has expanded its technology tools, e.g., offering all change agents the ability to directly phone in a podcast that's then broadcast to their backers.
The decision to create a for-profit social enterprise was very deliberate. Deron believes that "by maximizing profits and revenue,  you can maximize social impact. The two are mutually reinforcing." This decision (as some readers might have experienced) makes it difficult to get outside funding. Deron points to a common feeling from investors that the model of for-profit social enterprise discounts ROI. Consequently, Deron and Alex bootstrapped the company (moonlighting in business development and digital strategy for entertainment firms).
Changents partnered with Timberland to launch EarthKeeper Heroes, a campaign promoting the stories and work of individual environmentalists through social and digital media. This first partnership helped establish Changents as a storytelling platform for individuals and companies committed to change.
Deron and Alex identified Timberland as their ideal company to partner with because of Timberland's corporate sustainability practices and appeal to a younger generation. Deron wrote CEO Jeff Swartz a cold email explaining his concept and laying out a proposition. Both men liked to volunteer, so Deron offered to do a volunteer project of Jeff's choice in New Hampshire if he could spend a little bit of time with Jeff.  Deron also played his strongest card–the stories of what Changents change agents were doing. "I talked about the people and their work, and Jeff connected with that," says Deron.
Deron's first advisory board member was cause strategist Carol Cone. He recruited her with a cold email as well.
Changents has two revenue streams. The first is serving as a type of broker between companies and change agents. They help "corporate citizen companies" create end-to-end social media campaigns across all social media networks. The second source of revenue is sharing change agents' stories through traditional media. Changents has published a book and is working on a movie as well as a reality TV show profiling change agents.
I was particularly impressed by Deron's success in cold emailing Jeff and Carol. Have you had a particular triumph in this area? Or how do you respond when you get a cold email asking for help or guidance?
Connect with Deron on Twitter at @Changents.