No longer relegated to local niche companies, the Buy-One-Give-One (BOGO) practice has been adapted by a global retailer. Crocs, maker of the ubiquitous California shoe, has launched a BOGO program with a twist.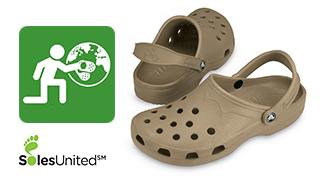 The campaign is called SolesUnited and this is how it works: donate any type of old Crocs and they're ground up and made into new two models of recycled footwear. When you purchase either of the SolesUnited models (Beach or Cayman) an identical pair is given to children and adults in rural areas around the world.
One million pairs have been donated thus far with a goal to donate 2 million this year. The recycled shoes are made from 20% reused material.
It's really exciting that a mainstream retailer is practicing BOGO, even if doesn't include all shoes sales. Crocs has launched a smart campaign that combines eco action with social action. A rundown of the payoffs: millions of soled individuals, recycled material, consumer excitement and terrific publicity.
The bar is officially raised.