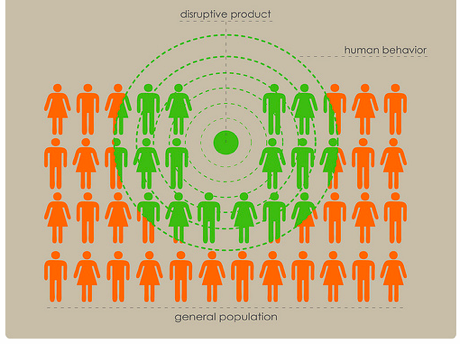 By Lee Fox for Cause Capitalism.
Philanthropy is characterized by specific behaviors in the context of compassion (the love of humanity), action (volunteerism), donation (the gift of money) and collaboration (partnerships).  Successful social enterprises require each of these elements to healthfully co-exist.
Of course, all it takes is the pinch of a bad economy to throw the harmony off-key.  Many nonprofits are experiencing the downwards spiral of donation dollars, for example, and need new ways to successfully move beyond their reliance of traditional donation in-takes.
Sharing their perspectives on this were John Brennan (OpenAction), Jacob Colker (The Extraordinaries), Christine Egger (Social Actions), Pamela Hawley (Universal Giving), Kari Hayden (Donors Choose), Dan Morrison (Citizen Effect) and Ben Rattray (Change.org) with Bill Scheurer (Karma Korn) moderating the workshop, "disruptive philanthropy."
Taken from a term first coined by Clayton Christensen as "disruptive innovation," the ideology of disruptive philanthropy identifies how a new population can participate in a way that was historically only accessible to an elite group.
In our traditional approach to cultivating philanthropists, the nonprofit sectors typically focused on wealthy people (or foundations) because substantial monies are required over sustained time to affect change for a recognized cause.  In today's world, however, we have to consider how the widespread adoption of digital technology is changing who can qualify as a philanthropist.
Bold crowd-sourcing innovations, such as conceived and built by the panelist organizations, have proven the emergence of "philanthropy 2.0" can cultivate a brand-new donor-base.  Simplistically defined, crowd-sourcing is the online version of giving circles–whereby individual donors collectively pool their charitable monies.
In the case of Donors Choose, Kari shared that her organization treats the $1-dollar donor with the same gusto as a higher-net donor.  Each donation receives a "thank you" from kids in the classroom whose project was funded online.  Radical personalization like this is possible as a result of digital and social platforms.
But as Dan of Social Citizen was quick to point out, online mechanisms (mobile, social media, etc.) are not actually the differentiators in these new models of philanthropy.  Instead, they need to be treated as "new plumbing" capable of enabling a low-cost way to celebrate and cultivate new philanthropists.
Meaningful.  Personal.  Easy.  Transparent.  These elements are key.
In consideration of volunteerism, Jacob of the Extraordinaries asked the room to think about the investment nonprofits ask people to give for the benefit of a cause.  "We have to be aware of the time they spend online enjoying such things as Farmville, of which there are 99 million players.  That's more than the population of France!" he said.  "Collectively, we spend billions of hours a year playing solitaire. So how can we capture that time to benefit the causes we want them to get behind?"
The answer, asserted the panel, is to disrupt current online activities with equally or engaging alternatives.  It's highly significant that in this Age of Information, digital technology has cultivated the largest collection of human knowledge through resources such as Wikipedia.com.   Organizations in our sector must then identify easy and self-fulfilling ways to tap into that collective knowledge.   Donor's Choose does so by involving their teachers in vetting the projects of new teacher users, for example.
Ben of Change.org reminded the room that within philanthropy 2.0, there are still simple "asks" that could be labeled disruptive without being invasive.
One such crowd-sourced example is reCAPTCHA whose social mission is to get older newspaper content online without incurring actual costs to do so.  Their business is to validate that a new site user is actually a human (and not a BOT), so that when signing up for an account, two words are displayed that the user has to enter.  As it turns out, one word is letter-for-letter known by the computer, and the other is actually a digitized picture, scanned-in for user-input which collectively amasses words of post-dated articles from the New York Times, thus fulfilling their social mission.
There is no doubt technology is changing the face of philanthropy.  The question is, will your organization leverage the 2.0 toolkit in order to attach social values to core business drivers online, or will you be on the other side of the digital gulf?
Lee is the founder of KooDooZ, a cause-based social networking site for students, their family and friends.
Image credit: KMackay