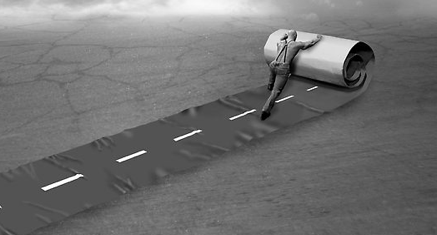 I have a plan to move me from where I am to where I want to be. I sketched it out in a park in Buenos Aires in the last few hours of 2009. I've stuck with the plan. Working late, struggling through writer's block and self doubt I've written one blog post a day, interviewed 18 social entrepreneurs and experts in cause marketing, CSR reporting and SRI, and agreed to build the non-profit network for a new social enterprise. I'm learning, sharing and implementing.
But this week I'm stuck. Out of no where the clouds gathered overhead and I felt ineffective. Suddenly, the blocks I'm building with seem too small. I want to be there already. I want to inspire and help entrepreneurs build businesses with social missions that can change the world. I want to build one myself. I want to create multi-sector partnerships that tease out our strengths and hold a bullhorn to inspiration to create something that vastly improves people's lives. I want to take bigger risks and use my education, experience and compassion to make an impact.
How can I make the greatest impact?
Is it by continuing to write about tactics and options for a social mission? Is it by continuing to show the evidence for sustainable business? Is it even through interviews? I'm not the best interviewer, but that's okay because it's not my final destination.  I interview people because it's an amazing way to learn from the businesses they've built, their moment of inspiration, their triumphs and their days of overhead clouds.
My hope was that the act of writing out and preparing to share these questions and frustrations would provide some clarity. And while I do feel better for giving a physical presence to my cycle of thoughts, at this moment the clarity continues to elude.
I'd like to ask you. How do you think I can make the greatest impact? Are you in your moment of impact or still searching or preparing for it? What steps do you take to get there and do you ever feel like you're there? I'd love to hear from you, either in the comments or by email: olivia(at)causecapitalism.com.
How often in life we complete a task that was beyond the capability of the person we were when we started it.  –Robert Brault
Photo credit Aspiration Magazine.