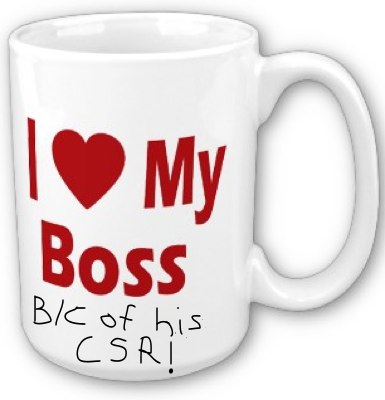 To increase your leadership clout, put down your 360° feedback report and be socially responsible. There is a distinct link between being perceived as a good manager or leader and practicing social responsibility.
Sirota Survey Intelligence asked 1.6 million employees from more than 70 organizations about senior management's integrity, empathy and effectiveness and found a strong correlation between these qualities and management's commitment to corporate social responsibility (CSR).
70% of employees in organizations with a strong CSR commitment rated senior management as having high integrity, compared to 20% of employees in corporations with weak or inauthentic CSR commitments.
Two-thirds of employees who see their employer's as committed to CSR also view their employer as possessing a strong sense of direction and strategy, versus only 18% of employees in organizations with weak or no CSR strategy.
Overall, employees do not distinguish between altruism outside or inside or a company. The same  drivers that inspire a manager or organization to do good externally are seen as translating to their treatment of employees. Additionally, socially conscious employers are inspiring in their awareness of problems and confidence that they can make a difference in external environments.
Douglas Klein, president of Sirota Survey Intelligence, adds an important qualifier: The most effective leaders not only practice robust CSR, they understand and communicate the "strategic importance these programs play in supporting the interests of the business."
So while CSR-engaged managers are more successful than philanthropic misers, they need to understand and be able to demonstrate the strategic relevance of CSR to reach full leadership potential.