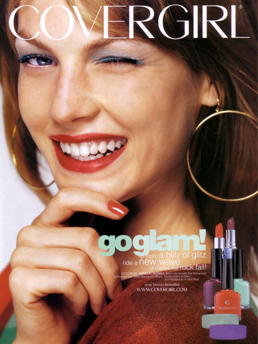 One afternoon last week I saw news of 3 new cause marketing campaigns powered by micro-sites. COVERGIRL is partnering with Children's Safe Drinking Water (a pet cause of parent company Procter & Gamble) to launch the "Clean Makeup for Clean Water" campaign and micro-site. In addition to donating $500,000 to prevent 4,000 daily deaths from drinking unclean water, the campaign reaches for the holy grail of user involvement–in this case video submissions on how consumers give back and why this "makes them beautiful" for a chance to win a trip to Africa and photo shoot.
The same day Campbell's announced its AdDRESS Your Heart and Help Grow Your Soup campaigns. The former involves TV-ratings virtuoso Tim Gunn and invites women to share personal stories about heart disease by designing a red dress that could be chosen for a red-carpet event.  Campbell's will donate $1 for every vote on a design (up to $625,000).  Help Grow Your Soup will preserve five barns selected by the public to underscore Campbell's appreciation for America's farmers and agriculture industry.
All three campaigns are conceptually interesting, multi-media and philanthropic. So, good on them.  I began wondering, however, about the cost of building out each campaign micro-site and their impermanence.  Couldn't campaign details be communicated, and user-participation achieved, in a more economical and lasting manner? How many more deaths from contaminated drinking water could be avoided each day if web development costs and internal resources were diverted to Children's Safe Drinking Water directly?
I thought of shoe-retailer Nine Wine, which showed that less is more. This past holiday season it skipped store decorations in favor of donating its "tinsel" budget to non-profits. What a sharp move. With less effort and equal cost, Nine West made a difference with its donation and received public recognition for the action.
For the past week, these questions lolled around the back of my head. Cause marketing is marketing first and foremost, but that doesn't sanction lousy decision-making.
And then this headline today: Coke Drops Campaign Sites in Favor of Social Media.  A brilliant decision in its economy of effort and cost and direct engagement with consumers in the places they most frequent–social media sites.  Coke will officially use Facebook and YouTube pages as the lead online channels for its upcoming international activity.  Unilever is also moving in this direction.  A Unilever senior global manager said, "You'll see fewer brands creating a site for one campaign and then throwing it away. Certainly we won't do that at Unilever any more."  And then there's Pepsi's much-talked about decision to forgo a Super Bowl spot in favor of investing $20 million in a social marketing campaign that will fund consumer-proposals for making the world a better place. An entirely "refreshing" idea.
What do you think about the balance of high-cost cause marketing campaigns? Par for the course, cause-washing or poor business acumen?