Neither nationwide purse-tightening nor cries of Slactivism! Greenwashing! and Fad! have shaken cause marketing. Eighty-three percent of consumers "want more of the products, services and retailers they use to benefit causes," according to Cone Inc.'s 2010 Cause Evaluation Study.
But how do you do cause-related marketing (or cause branding) right?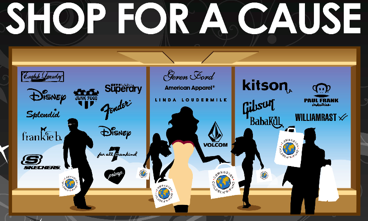 Pick a cause you care about.
Crowdsourced charity had its pop–and then fizzle. Sixty-one percent of consumers say they'd prefer to see a company make a long-term commitment to an issue rather than having the chance to vote for the cause they think the company should support in the short run.


.

Invest in a cause long-term.
Crowdourced campaigns in which entrants vy for votes through social media can build site traffic and brand awareness–momentarily.  "After one year, or five or 10, [these type of campaigns] won't have clearly defined what the company stands for," says Alison DaSilva, Executive Vice President at Cone. Consumer-driven, short-term campaigns also make it much harder for a company to measure its social impact.


.

Involve employees.
This is a two-for-one. Employees who're involved in their company's social or environmental commitments feel more pride and loyalty toward their employer.  Per Cone, 93% of engaged employees say they're proud of their company's values (vs. 68% of employees who don't take part in social or environmental activities).  This 93% of employees who take pride in their company and work translates directly–and tremendously–to customer satisfaction and profitability (Zappos.com and Southwest Airlines are poster children for the theory of Happy Employees Drives Company Success).


On the flip side, employees often bring their passion and knowledge of the company's sustainability efforts to their interactions with consumers, which can be critical in the success or failure of your company's specific campaign and larger efforts. Seventy percent of consumers say an informed employee would likely drive their purchase or donation. At the very least, employees greatly influence a campaign's message and company intent.  As I wrote about

here

, Ikea charges customers for bags. Asking a customer who's just spent money in your store to pay for the packaging to cart it away is a delicate request, which is left to the cashier to make.  By training its employees in overall company sustainability goals and illustrating how charging for bags supports these goals, Ikea impassioned (or at least educated) its employees around this transaction.  A reader's comment on his bag-buying experience sharpens the point:

When the Ikea cashier told me about their bag policy she was beaming with pride. It was pretty much the only time I saw any Ikea worker happy. I think policies like this give people in the company a reason to care.

Involve Consumers.
While  consumers still want to support your company's cause through transactional purchases (81%) they also want opportunities to volunteer for the cause (72%) and to provide feedback on the product or campaign (75%).  TOMS Shoes is known for its transaction-focused buy-one-give-one model.  But the company has also done an excellent job of providing customers opportunities to act, e.g., through Style Your Sole shoe painting parties and a "One Day Without Shoes" event that mobilized thousands of students to go barefoot for the day.
Thanks to Cone Inc. for another set of valuable data points.