Walmart's $4 prescription drug plan, which makes nearly all prescription drugs available for $4, has generated more than $2 billion in savings for its customers, with a specific benefit to Medicare recipients and the uninsured.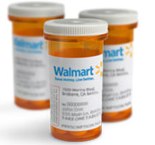 But it wasn't launched as a social responsibility initiative. It was launched as business strategy. And it's proven extremely successful, attracting millions of new customers, influencing greater store sales and establishing Walmart as the third largest pharmacy in the United States with 16 percent market share.
Walmart launched the program because it saw a market opportunity to meet the specific need (inexpensive medication independent of insurance status) for an enormous population (not only the uninsured and Medicare recipients but anyone looking for affordable prescriptions or one-stop shopping).
As Jason Saul writes in his recent book, Social Innovation, Inc., this was a "true business strategy that happened to involve social change as a leverage point."
Of course social impact shouldn't only be a freak side effect of a business strategy. Opportunities are born from the challenges around us. As Peter Drucker says, "Every single social and global issue of our day is a business opportunity in disguise."
Bill Marquard also speaks about reframing social issues as an opportunity for business growth, rather than as a societal obligation. During last year's Sustainable Brands conference he used Groupe Danone's partnership with Grameen to illustrate this. To address the issue of malnutrition in Bangladesh, Danone elected a market-based approach over a philanthropic investment, product donation or cause marketing campaign.
The output is a new yogurt product available for around nine cents that fulfills children's basic nutritional needs. The outcomes of this venture, both social and business, are tremendous. Through it, Danone developed a new market in Bangladesh, created a low-cost product that's since been introduced to French consumers and strengthened operational efficiencies (the small footprint manufacturing facilities and processes that were developed in Bangladesh are being replicated globally). This market-based solution also yielded a greater and more enduring social impact (a new national industry, more jobs and access to critical nutrients for many Bangladeshis) than if Danone had just gifted money.
Bit by bit, we're seeing more companies using their core business to address social issues and viewing these issues as potential profit. It's not unethical. It's the most generous thing a company can do.
You can hear Jason Saul speak at Sustainable Brands next month. As a presenter, I can offer 20% off conference registration through May 15. To register with the discount, email me at olivia[at]causecapitalism.com.