Click the player to listen to the interview or right-click and save for the MP3.

Like this interview?  You can thank Ryan on Twitter like this.
I do a lot of name calling here: for-profit, nonprofit, social enterprise.  When I interviewed Ryan Bettencourt, co-founder of CellarThief, he ended the interview with an appeal for us to stop thinking in terms of for-profit and nonprofit and focus on the power of entrepreneurship its ability to solve challenges and create financial and social wealth.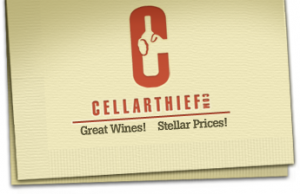 That's what he's trying to do with CellarThief– a tiny new, bootstrapped, socially driven online wine retailer.  The company donates 100 days of clean drinking water through charity: water for every bottle of wine that's purchased. Since its January launch, 128,900 days of clean drinking water have been donated; that's one year for 353 people from just four months of wine purchases.
I asked Ryan why he was drawn to a social component (in brief, it started with a vision of law school, continued through years in the wine business and studies in social enterprise and ended with a partnership that provides clean drinking water, engages CellarThief's community and serves as the first bloom of the company's much grander vision).
Ryan is slightly reticent about the company's social initiatives. He doesn't want to use the water donation program as a marketing initiative because it doesn't nearly reflect the impact he wants to have.  We also talk about the discomfort that even we as entrepreneurs sometimes have with mixing profit and cause. We believe that they're stronger together, yet sometimes we're knocked off-kilter by our own sense of ineffectiveness or fears of  whispered of green-washing.  Ryan raises excellent questions about the use of social good for profit.  Where do we draw the marketing/promotional line?  My simple answer is that if a company's social programs come from a place of sincerity, it has an opportunity (obligation) to push the sector forward by challenging its peers to be more aware and contributive.
Ryan offers some great insight into the challenges CellarThief has had and what it's done well, from bootstrapping to creating a product that gives people a reason to talk, to going to market before you're 'ready.'
Take a look at CellarThief, a beautifully designed site, and how it clearly presents its social initiative.

Standard Podcast
[ 1:11:10 ]
Play Now
|
Play in Popup
|
Download