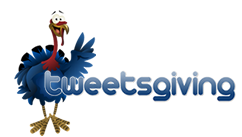 I'm taking a pause from writings on consumer trends, interviews and 'you shoulds' to reflect on the Tweetsgiving event I'm hosting tonight in Buenos Aires, Argentina. I moved to Buenos Aires 25 days ago. Six days ago Epic Change and Tweetsgiving champion Stacey Monk asked if I would host an event  here and I agreed. Tweetsgiving is simply a campaign to give thanks. It takes place online and at parties and events held around the world. This year, six continents are host to 40 parties. I  can proudly say that Buenos Aires is Tweetsgiving's only South American outpost. A secondary component of Tweetsgiving is fundraising for Mama Lucy's primary school in Arusha, Tanzania. Last year, more than $10,000 was raised to build a classroom. A goal of $100,000 this year would construct a cafeteria, library, dormitory/orphanage and additional classroom.
Thus agreed to host, I scratched my head about how to do it with few contacts and local knowledge. The process of putting this together has reinforced a salient lesson:  It's worth the effort and state of vulnerability to organize events because of the people who meet along the way. With an event as my shield and emblem, my outreach and sponsorship requests aren't about me but about the mission of the event. I contacted sponsors with some trepidation (who would want to sponsor a gringo's event? I don't even speak the language), but have been delighted by the results. My sponsorship record is 2 for 2 here and what's more, the business owners are interested in establishing a relationship with me–a personal relationship, not just a clutch at customer loyalty. They are dedicated community-builders who don't see nationality as a criterium, and this I did not anticipate.  I've spent hours posting Tweetsgiving Buenos Aires on local volunteers sites and directly emailing individuals who've not a clue who I am. Many people have not replied but those who have make my heart soar for a few moments. I've forged some wonderful nascent connections that I can develop more deeply during my time here.
During these six days, I've wondered sporadically (like in the midst of dialing an organization a dozen times because I don't understand how to call an extension…and then leaving a garbled Spanglish voicemail) why I'm putting so much effort into this. Why not invite the 10 people that I know and drink beer at a bar with the 5 who show up and call it Tweetsgiving? No one's looking and Stacey and her team never asked me for more.  Truth be told, I think the answer is a combination of being stimulated by the challenge, taking pride in my work and being awed by the vision (and now manifestation) that the Tweetsgiving team has set.
I don't know what tonight will yield and I'm still feeling out my role as a facilitator. The guest list is growing but still unconfirmed. I'm picking up dessert from my two sponsors this evening, Sugar & Spice and The Cupcake is Under the Table. My new Argentine friends would tell me to be tranquilo. It's the mode of living here, at least ostensibly. So I will. I will focus my thoughts on the amazing people that I've connected with during the past six days, on an event of simple gratitude and on a lesson reinforced, no matter the country, language or aim.