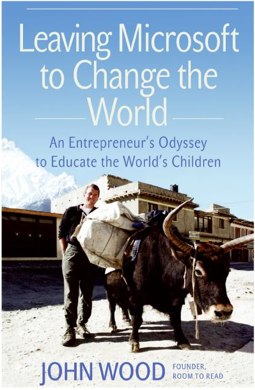 I've read a string of great books lately, parts of which occasionally flash into my consciousness, but none has made the same impression as Leaving Microsoft to Change the World.  It's the self-told story of John Wood's departure from Microsoft to create libraries at first, then classrooms, then schools and finally scholarships in Southeast Asia and parts of Africa through his nonprofit Room to Read. And it's wonderful–for Wood's relatable candidness and self-awareness, applied business and fundraising lessons and convincing argument that it doesn't take much money to alter the trajectory of an individual's life.
Reading Leaving Microsoft to Change the World changed the way I give. I now look for more direct impact opportunities and organizations that facilitate them.  I'm more optimistic about the real possibility for change in developing economies. I'm more focused on causes, campaigns and donations that make a damn of difference. Less hoopla, more impact.
Unlike Three Cups of Tea, which split its focus between Greg Mortenson's work to bring education and opportunity to backwater areas in Pakistan and Afghanistan and the region's geopolitical history, Wood's book is a terrific guide to launching an enterprise. He applies lessons learned from business school and Microsoft to Room to Read, a nonprofit organization, "I knew from day one that I had to be a salesperson as focused on cash inflow as I was on program delivery. It was logical that [understanding the importance of capital] would help me in my business career…but this focus was an even bigger competitive advantage in the charity world."
I've applied many of the tactics and ideas that Wood uses–from using every email to communicate impact to research objectives to negotiating and fundraising strategies–to my own life and work in the past two weeks. Wood's story is not glamorous (he talks about the tradeoffs between work and relationships and hesitantly accepts that he will be a renter–not a homeowner–for a long time to come), which makes it all the more useful and inspiring.