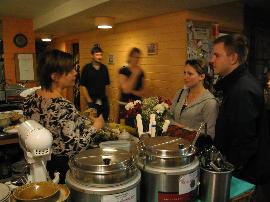 I spoke with Denise Cerreta, founder of One World Everybody Eats,to find out how she developed her model for a community kitchen, how she plans to scale it internationally and what other businesses can do create a company that gives back.
What are One World Everybody Eats' primary objectives?
Eliminate world hunger. Feed and include all members of the community.
Serve organic cuisine. Greatly reduce waste in the food industry
How did you devise your model for an eatery that lets customers chose their portions and pay what they want, and also lets people volunteer in exchange for a meal?
The short answer is intuitively. Denise says she hit her spiritual glass ceiling while running an acupuncture clinic. She knew she had to close it down in order to grow more as person on this planet. She started with a small coffee shop that quickly evolved into an organic, for-profit cafe, which Denise ran as a solo operation for three and a half years.Several months into it, she had what she describes as a 'Field of Dreams' moment, spurring her to let customers price their own food. She began doing this immediately, as soon as the next person walked through the door.

"I didn't sit down, thinking, 'Oh, I'm looking for some creative thing that no one's ever done before.' I didn't even realize I was considered a humanitarian."

Do you plan to establish other community kitchens nationally and internationally? If so, how does this translate to other cultures and communities?
Denise believes her model brings us a step closer to eliminating world hunger. She's working with individuals through out the United States to set up their own pay-as-you'd-like eateries and is headed to Rome this year to present her concept to the United Nations. She has a commitment to help a doctor-led group in Zimbabwe start a community kitchen in two or three years and is working on a retail-exchange program in Thailand. Community kitchens around the States will sell handmade aprons, napkins and placemats that were crafted by their 'sister community kitchens' worldwide. One-hundred percent of sales will be returned to the sister cafe.


How can other businesses significantly integrate social change?
Her suggestion is to write a vision statement at the time you create your business that serves as a road map. Realize that you already are a social entrepreneur and don't push off philanthropy until you believe you have enough profit.

"Set up two bank accounts for your business, a regular bank account and a spiritual bank account. They both have to be full to complete your mission."

Do you consider yourself an entrepreneur?
You bet she does. Denise sees her self as a business woman with a business in the nonprofit realm. She's extremely conscious about being able to pay her bills and earning revenue to grow her programs. Profit is the sustainability part of Denise's model and her fundamental distinction from a charity or subsidized soup kitchen.
"I want and need to keep doing my charity (One World Everybody Eats Foundation), but I don't want my hand out either."
Denise is happy to mentor any one looking to start a community-type eatery or other social change businesses. You can email her here: Community(at)oneworldeverybodyeats.org.