UPDATE: I'll be interviewing Denise Cerreta on Monday. Check back next week to hear about her experiences with One World Cafe.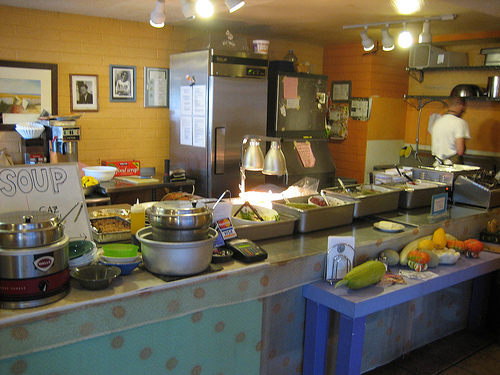 There are no prices or fixed menus at One World Cafe in Salt Lake City, Utah. Customers choose their portion sizes and pay what they deem fit. The "community kitchen" is One World Cafe's founder Denise Cerreta's first step toward eliminating hunger.
Since mid-2003, the cafe has served up seasonal organic cuisine for pay-what-you'd-like prices. Customers pay an average of $10. Cerreta's concept is to create a community space that embraces nutrition, generates minimal food waste, pays living wages and is accessible to everyone. Those unable to pay can volunteer for an hour in return for a meal voucher. In addition, the cafe provides a daily gratis staple dish that anyone can eat.
Terrific concept, but is it an embellished soup kitchen in actuality? Where's the sustainability, where's the profit?
These questions are expected. One World Everybody Eats Foundation (an outgrowth of the cafe) posts financial information on their web site in an effort toward transparency and to model success for others looking to start pay-what-you'd-like eateries.
Profitable since 2005, the cafe earned $348,730 in revenue in 2007 with a 5% profit margin (a 28% margin if Cerreta were to pay minimum wages). There's more to the model than customer payments equaling a profitable average. The cafe saves on payroll services and credit card charges and stands out among its competition.
It works in Salt Lake City and Ceretta believes the paradigm is universally applicable. One World Everybody Eats aims to open new cafes throughout the United States as well as abroad.