Rather than doing the industry in, cause-washing might just save corporate sustainability. Although consumer trust is worse than we thought, the anecdote has the potential to alter the way companies do business and consumers shop.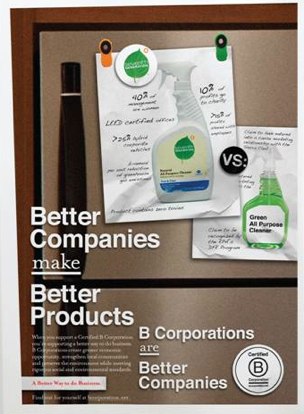 Less than one percent of people (surveyed recently by BBMG in partnership with B Lab) trust company advertisements or statements made on packaging when trying to determine if a product or company is doing what it says. Given the thought, perception and dollars that companies put into product packaging, it's an alarming statistic.
So what's the answer? More product certifications or stricter product standards? B Corporation points to the company–not the product–as the standard of truth.
Let's take for example Method's Squeaky Green laundry detergent and Clorox's Green Works' Naturally Derived detergent. The difference between the two detergents (both are plant-based, biodegradable and safe to use around kids and food) is the company behind each product. Only one has built a business (and all its products) around sustainability–positive employee relations, harmless cleaners and concern for the environment.
Through an upcoming ad campaign, B Lab (the organization which certifies B Corporations) hopes to help consumers differentiate between products that appear to be comparable, but which aren't when you "widen the aperture on the lens to look at all the elements that make up a company's sustainability [not just the merits of one product]," says Jay Coen Gilbert, a co-founder of B Lab.
To earn certification as a B Corporation (B meaning Beneficial), companies must meet comprehensive and transparent social and environmental performance standards. At first glance, the significance of this can be easily lost on consumers bombarded with product certifications like Fair Trade, Organic or LEED-Certified.
The critical distinction (and potential eliminator of cause-washing) is that B Corp certification isn't a product-based claim, it's a company-based stamp of responsibility, which guarantees not just that producers are paid fair wages, but that the company operates ethically, transparently and responsibly.
If B Lab and its B Corps–beginning with the upcoming ad campaign–can make it easy for consumers to identify and evaluate truly responsible companies (which no doubt requires some training and education) then future KFC-Susan G. Komen and BP cause-appearing campaigns don't have a chance of succeeding.
The ad campaign is set to reach 17M individuals starting in November.  "Our long-term objective has always been to make it easy for consumers to identify and support good companies," says Coen Gilbert.  With the B Corp certification reaching a critical mass (there are more than 320 B Corps across 60 industries), the timing is right to begin engaging consumers.
"I feel like we're swimming downstream. Consumers are tired of green-washing.  More than 90% of consumers who viewed the ads say they'll look out for the B Corps featured in the campaign next time they go shopping," says Coen Gilbert.