There's a slow sprouting of Buy-One-Give-One businesses, where, for every product a consumer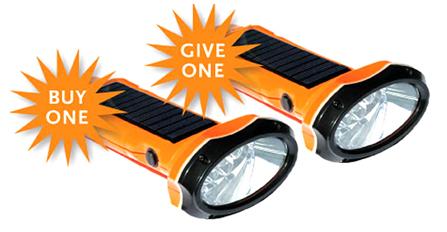 purchases, an identical product is donated to a person in need. We have Nick Negroponte's One Laptop Per Child, TOMS Shoes and, my latest discovery, the BOGO Light by SunNight Solar.
The BOGO Light generates clean LED light from rechargeable solar-powered batteries. The light sells for $25 and can be recharged by simply hanging from a clothesline or tree branch. Buy a light for camping in Joshua Tree and SunNight Solar will send a light to a child who works all day and studies at night, or a man in an unlit Kenyan refugee camp.
Let's be clear that this isn't a re-varnished form of charity. BOGO Light's inventor and SunNight Solar founder, Mark Bent, is a former oil executive who recognizes that revenue and consumer expectations can extend the reach of your mission. He's also a former diplomat committed to illuminating radical change.
Admittedly, consumerism is not the whole answer. But when it delivers shoes, light and, fantastically, computers with Internet, it's an exalted step in the right direction.