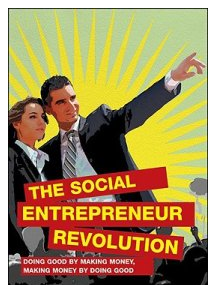 I was reminded tonight of how new the idea of social enterprise really is. Maybe not for you, but take a step back. Not only do some investors or consumers question it, but so do some of us. I just got off the phone with a change agent who is trying to put the pieces of the puzzle together to launch a cause-driven, for-profit business. I'm sharing his story because his uncertainty about earning a living from doing good surprised me.
He's run his own company for 10 years and he's a compassionate musician who's developed an interest in using music and art to fundraise for causes and individuals. He's put on several Toys for Tots concerts, a concert for a single mother who's house burned down a week after she lost her autistic child, and is currently working with his city's Haitian community to organize a benefit for Partners in Health. We spoke because he's trying to figure out how to build an organization that connects causes with volunteers, artists and activists. Here's how my mind processes this: The man is hard-working, capable, action-oriented and deeply caring. He can create change by bringing people together in new ways.
His most looming question, which he's been wrestling with is whether it is "ethical" for him to make money from an organization that helps people. He brought up the backlash on Wyclef Jean's Yele nonprofit (Wyclef's culpable in my mind) and dissidents that feel Bono uses social projects to sell more CDs and concert tickets (so what? Look at the good he has done).
Here's what I said after I got over my surprise. It's clear that his actions come from a place of sincerity and passion to help. It's not unethical to make a profit from an activity that benefits people. Isn't that the way it should be? Shouldn't we be sustained and rewarded for the good we create? Before tonight I thought that the best social enterprises are created from sincere passion and an awareness of serving different groups' needs (including our own needs). I would add now that more familiarity with the idea of social enterprise is needed–by investors, by consumers and even by us.
What do you think? Is there a thin red line? What's the best indicator of a social enterprise?
Photo credit: Martin Clark's book, The Social Entrepreneur Revolution.