Sure, Americans love their mobile phones and use them handily, but there's still stunted confidence for mobile financial transactions, whether it's a payment or a donation. Part of the reticence comes from the clumsiness of many mobile commerce and mobile giving sites and part of it's a lack of incentives.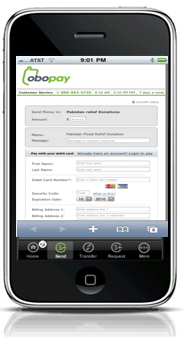 Benevity Social Ventures and Obopay recently launched a text-to-donate service that aims to simplify and incentivize mobile giving. Software company Benevity (I've profiled iStock Photo's use of the Benevity platform to power micro-donations) partnered with mobile payment provider Obopay to create a service with enough incentives that it might create the tipping point.
Here's the potential for companies:
It can easily be integrated into a cause marketing or loyalty campaign. When deciding between Prego and Ragu, I can follow a prompt on Prego's label that encourages me to make a donation (then share it on social media) and then offers me a coupon or product incentive.


.

It enables companies and nonprofits to partner on full-feature campaigns that go beyond a mobile-only component because it integrates with Benevity's suite of services that support mico-donations, employee giving and cause-related campaigns. A typical challenge of mobile fundraising is that it's offered as a stand-alone program, which limits its appeal to consumers, as well as companies and nonprofits.


.

Companies can create a branded portfolio of causes, grouped by locality or issue (e.g., a FedEx portfolio of Memphis-based charities or a national portfolio of youth literacy organizations).


.

It provides branded tax receipts. After a user gives, she receives a tax receipt referencing the company associated with the campaign, which gives the company greater visibility for its initiatives. When Prego or FedEx offers me a meaningful opportunity to engage with and support a cause and then sends me a receipt with their name on it, it's one more point of (positive) brand interaction.


.

Companies can match donated funds, which incentivizes consumer giving and bolsters the philanthropic (and branded) impact of a company's giving. It also makes it worthwhile for nonprofits to direct donors to partner retailers, since these retailers can easily match a donation.


.

Companies can partner with any registered nonprofit, regardless of size

. The service doesn't require formal on-boarding for nonprofits and doesn't exclude small-shop charities.
For consumers, many of whom want ways to engage a cause beyond a traditional cause marketing point-of-purchase donation, it's an easy and immediate way to directly support an issue and to track giving impact. Companies can also track, and then reward, consumers' donations through the company's portfolio of causes.
Many of the incentives the text-to-donate service offers companies double as consumer/donor incentives: matching donations, convenience and more immediate impact (unlike existing mobile donation services, the donor doesn't have to receive and pay her phone bill to trigger the fund transfer).
Benevity and Obopay's service is hitting the sweet spot of mobile commerce, mobile marketing and cause marketing, a place where Foursquare and other geo-location programs have visited, but haven't fully yet claimed.