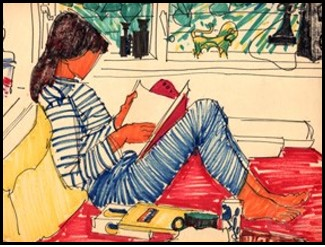 Here are the blogs and sites I read (about half of them I read or skim daily) for sustainable business news and perspectives on good business, marketing and blogging. I like to sign up for a daily or weekly email feed so I can skim headlines and ideas without having to remember to visit the sites individually.
3BL Media Committed to the triple bottom line. Daily feeds of CSR and sustainability news, companies, events and ideas.
Cause Shift A new platform for bringing together brand, non-profit, corporate, social media and political creatives to map a better a world. Hunger elimination is the current focus.
ChangeMakers Ashoka's newsletter on social enterprise. Salt-of-the-earth, getting-it-done stories.
Change.org Action-oriented stories on sustainable business, political activism and cause.
Chris Brogan Community, social media and brands. Like Seth's, I read these daily emails every morning.
CSRWire.com I skim this every day for press releases and news stories on sustainable business and cause marketing campaigns.
Rally The Cause Scott Henderson writes on causes, companies and non-profits.
Realized Worth Corporate social responsibility and corporate volunteering from Chris Jarvis and team.
Selfish Giving Joe Waters writes a terrific and humorous blog on all things Cause Marketing.
Seth Godin Because his blogs make me think more. And I like that. The marketing whiz behind Squidoo.com.
SocialEarth A TechCrunch-like site for social entrepreneurship. News, interviews and opinion pieces.
Sustainable Life Media Producers of the excellent Sustainable Brands conference, this organization also hosts smaller workshops and reports on sustainable companies.
TriplePundit More than 30 contributors make this a fertile site for sustainable thinking.
What Do You Stand For? Tactics, lessons and data on cause-oriented programs and consumer behavior from Cone, Inc.
This is just a shot from the whiskey bottle of sites and blogs focusing on socially responsible business. Which ones make you think harder?