Go Green Solar founder Deep Patel is a solar energy aficionado, social-good actor and reader of this blog.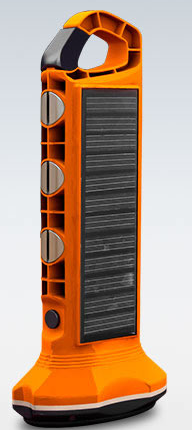 Patel recently spoke about a plan he's developing, which would bedeck the Hollywood sign with solar panels to capitalize on the sign's solar energy real estate and drive energy back into Los Angeles' grid-tie system. As I was talking with Patel afterward and learning just what a grid-tie is, he brandished an orange flashlight with a proud grin and announced his company as the lamp's latest distributor. It was a BOGO Light from SunNight Solar. Patel had read my post on SunNight Solar's Buy-One-Give-One (BOGO) business model, contacted its founder Mark Bent, and brokered a partnership to sell the solar-powered flashlights and under the Buy-One-Give-One sales model.
Here's the shakeout: an active distribution channel for SunNight Solar, a dynamite product in Go Green Solar's inventory, another individual with nighttime access to light, and a marvelous anecdote about the power of mission–and of blogging, for me.