The principle of the following story is so simple and effective that it's a wonder we ever conjured up advertising to sell our wares. Take your largest and most expensive asset, your employees, and use it to build your business.
During an interview last week with enlightened entrepreneur Chip Conley he mentioned that his company, Joie de Vivre Hotels, focuses its investments in culture rather than marketing.  As I love culture (both the corporate and international strains), this appealed to me and set me to wondering if we'll someday have Chief Culture Officers.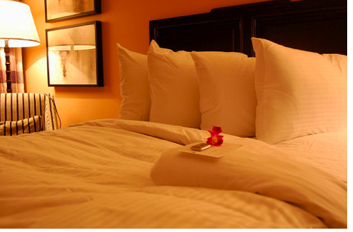 I did some digging and found a video clip of Chip talking about why his company decided to invest in company culture (specifically employee training) rather than in advertising during the travel industry recession in 2001.
Instead of spending big money to sell customers the comforts and unique delights of Joie de Vivre, the company decided to invest a much smaller sum into staff training.  Chip anticipated that imparting service-level employees with "a sense of calling" for what they're doing would translate into great service experiences and lead to long-term profitability rather than an advertisement-induced uptick. He was right.
Housekeeping and front desk staff, bartenders, etc., were taken off-site for a day (employees from the nearest JDV hotel covered their shifts). They were given information about the company and asked to create a strategy for the hotel. Bringing all employees into this information and creation process yielded tremendous results for the hotel chain.  During the recession, 2001-2003, employee turnover rate dropped to 24% (the industry standard is 70-100% turnover in one year) and employee satisfaction scores "went off the charts," says Chip.  Employees felt more connected to their work and its purpose, which reflected clearly in customer satisfaction scores and loyalty.
Like Chip's approach? You can read more about these service retreats and their impact, as well as other initiatives in PEAK: How Companies Get Their Mojo from Maslow.