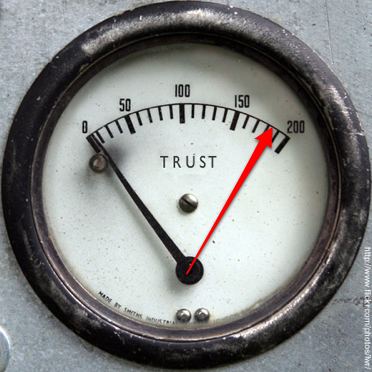 We know that transparency is a strong indicator of a company's social mission. Turns out, it's also good for business. Recently, transparency has been shown to be a significant driver of ultimate financial performance. The thread between transparency and profit is trust. By opening up internal operations, successes and failures to the public and to employees, we demonstrate transparency as a company, which customers like. But the reason customers like this is because it allows them to trust us, to recommend us, to tell us when we err and to choose us again.
Thera N. Kalmijn of SureGround and R. Paul Herman of HIP Investor discussed these ideas in Trust, but Verify – a New Mantra for Customer Growth published on Sustainable Life Media. The article is excellent, examining how we can earn and nurture consumer trust and use it to rally support and profits for our social mission. Some of my favorite points from the article are below.
Increased transparency can get you an 18% jump in revenue, while opaqueness seems to lead to a 6% drop in revenue (per EngagementDB's 2009 report).
Transparency is defined by engaging customers in social media and using multiple formats to communicate company operations.
Top drivers in determining a company's reputation are 1) transparency, 2) honesty and 3) trustworthiness, compared to 1) product quality, 2) customer needs and 3) financial performance as found four years ago (2010 Edelman Trust Barometer).
The adages (trust has to be earned, trust is fragile) are still true today. Increasingly, social and environmental disclosures-especially metrics-can help drive or damage trust.
If a company doesn't meet its social and environmental problems, they risk brand loyalty, price premiums, and reputation.
An effective sustainability strategy creates trust and helps protect and build brand.
SureGround's developed this schema to guide companies:

Transparency–Appropriate, accurate, timely information and metrics
Recognition–The company has relevant rankings (in sustainability, green, etc.) and appears often in sustainability indexes
Understanding your consumer–What social and environmental solutions give them value?
Signaling–Visual "shortcuts"  that signal sustainability, e.g. labels, social media, media awareness, reporting*
Teaming–Two-way engagement with stakeholders including NGOs, industry partners, supply chain, and customers

Seeing is believing. Trust must be signaled and then verified, i.e. labels, ratings, industry recognition.
Developing an understanding of customer concerns creates deeper relationships and trust.
Partnering with NGOs to address relevant social and environmental issues is also critical to trust. "The overwhelming majority of the informed public say they would be more likely to trust a company that partners with NGOs to solve global challenges such as climate change, poverty, or disease…" (2010 Edelman Trust Barometer).
Failures in any the areas of the TRUST schema lead to reputational and financial risk–even more so when a company's core strategy is based on social and environmental promises.
*Caroline Duell decided to certify Elemental Herbs as a B Corporation because the certification was a visual symbol of what her business stood for.
What's your experience with building trust in your company? Alternatively, as a customer, has a specific incident earned or lost your trust in a company? Does it only take one slip or is it a compilation of openness, listening and reporting?