Most people think that a social mission* is a money drain on a business.  Conversely, I've found that it helps a company grow. Here are 13 ways that your business can profit from integrating a social mission.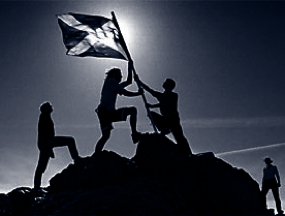 People will talk: consumers, competitors, investors, suppliers and the press.
Employee morale goes up.  People like to work for a larger purpose and know that their work makes a difference.
Consumers prefer companies that make a positive impact on the world.  Two out of three consumers will switch brands if one works with 'good causes' and the other does not (Edelman, 2009).
You'll look like a future-bound company.  Talked-about, contemporary and successful companies represent more than just a product or service.
Spend less on marketing.  Your mission will do your marketing. A line of grocery products founded and once produced by Paul Newman (Newman's Own) is a somewhat banal story that merits only a mention in the press. The fact that the company donates 100% of profits to charity is a story that sticks, intrigues and encourages participation through purchase.
Attract talent.  People want to work for employees that care. A social cause is indicative of a favorable workplace.
Attract young talent.  Teach for America was the top employer of graduating seniors from Brown, Georgetown, University of Chicago, Trinity College and about a dozen other schools in 2009. 16% of Yale's graduating class applied for one of the most challenging and low-paying jobs to be found in America.
Keep talent.  When employees are part of a larger mission and feel their contributions make an impact in the world, they're engaged, proud and motivated.
Spend less on energy, water and waste disposal.  You'll save money by reducing energy and water consumption and waste production. Making less waste and reusing water or materials costs less to buy and less to haul away.
Gain an edge with your suppliers.  Stonyfield Farm pays their organic suppliers a floor price that won't ever drop, protecting their suppliers from market swings and production hiccups. In return, when supply for organic milk or sugar outpaces demand, Stonyfield is first on the delivery list and can buy at a fair price.
Your company's initiatives will be modeled as more companies realize the benefits of having a social mission.
Exercise your political or social voice.  Championing a cause transforms your company from a mere provider or a product or service to an influencer.
Have fun.  Science proves what most of us know–doing good feels amazing. We feel happy, enlivened and creative. Channel these feelings back into your business and you've got a real competitive edge.
*What is a social mission?
A core component (or components) of your business that yields a positive impact on the environment, society or a specific cause or issue.  Newman's Own, Stonyfield Farms, TOMS Shoes and Clif Bar are several examples of companies with brawny social missions.