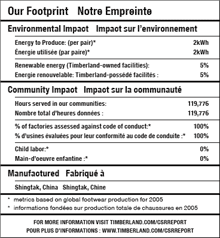 The Timberland Co.'s nutritional label, found on shoe and boot packaging, reports on the brand's social and environmental impact.
The label-displayed on 30 million shoe boxes a year-provides information on where the footwear was made, how much energy was consumed to produce it and how much renewable energy Timberland uses. Inside the boxes are inserts, calling on customers to take actions to help protect the environment or volunteer in their community.
Cause capitalism is a guiding principle for Timberland, whose compassionate policies include:
Monitoring suppliers to ensure they are treating their workers fairly
Constructing sustainable stores
Using eco-friendly packaging
Giving employees 40 hours of paid time off to volunteer every year
But here's where these actions really gain credibility: Timberland's sales having been growing an average of 10% annually and the company's stock prices have doubled in the last 3 years.